Substrate: MS polymer
MS418 is a one-component sealant produced by our Company using imported eco-friendly materials, which is the most popular sealant in interior decoration in Japan, Europe and America. The product cures after absorbing water and forms adhesive rubber with the main advantages of innocuity and safety to use, which is a kind of green and eco-friendly decoration material.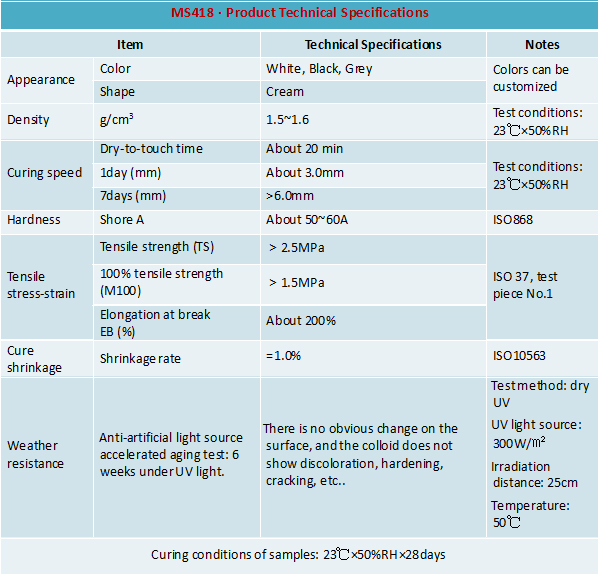 Features & Advantages:
1. Free of toluene, formaldehyde and any organic solvents, safe to use.
2. With 100% anti-mildew, anti-black, waterproof and moisture-proof effects.
3. The cured surface is bright and beautiful without shrinking. It will not fall off, harden or fade after long-term use.
4. It has strong adhesion to ceramic, ceramic tile, acrylic plate, marble, aluminum alloy, stainless steel, plastic, wood, cement and other substrates and can keep the seal for a long time.

Applications:
1. Mainly used for water-proof sealing in the parts that contact with water such as bathtub, toilet, hand-washing table, cabinet countertop, etc.;
2. Waterproof of caulking around fish tank and corner;
3. Repair of drain pipe, ceramic tile joint or bathing equipment;
4. It is suitable for bonding and repairing all kinds of wood, stone, pipes, etc. It is also suitable for other places with mildewproof requirements.

Construction steps:
1. Clean the substrate to ensure that the surface of the bonding part is free of dust, water, oil stain and rust. If necessary, the surface of the substrate can also be wiped with organic solvents such as alcohol.
2. In order to prevent excess sealant from overflowing and polluting the substrate, it is necessary to stick masking paper on both sides of the sealant application.
3. Cut the tip of the sealant into a certain shape according to the shape of the construction site and then squeeze the sealant on the construction site.
4. Use a scraper to smooth the surface and remove the masking paper.
5. Wait for the sealant to cure naturally.

Application tips:
1. The surface of the substrate must be dry and clean before being glued, free of grease.
2. The unused sealant after unsealing shall be sealed and stored, and the cured part should be squeezed out before reuse.
3. It is not suitable for use in high temperature environment, and the temperature tolerance range is -40~90℃.
4. It is not suitable for use under water or long-term immersion in water.
5. During curing, the sealing joints are not allowed to have large displacements, otherwise the sealing bonding effect will be affected.
6. The correction needs to be completed at once. Repeated correction many times will make the surface uneven.
7. Substrates that can ooze oil are not suitable for direct application of sealant.

Note:
It is strictly prohibited for children to touch the unhardened sealant. If it gets into eyes, please rinse with water for more than 15 minutes for medical treatment, and keep the room ventilated during use. Please handle the used packaging materials according to the local environmental protection regulations.

Storage and transportation tips:
Storage period: 12 months in dry and cool environment (original packaging conditions).